AMJEVITA SupportPlus Co-Pay Program
+
Paying for AMJEVITA
Eligible commercially insured patients may pay as little as
$0per month
with the AMJEVITA Co-Pay Program.†
Click here to get started by enrolling in Amgen® SupportPlus.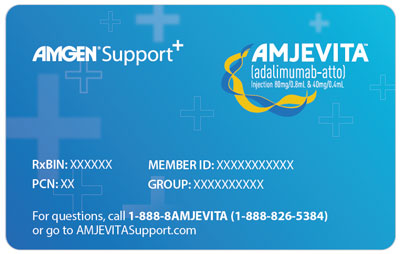 RxBIN: 600426
PCN: 54
Group: EC12725003
Member ID: XXXXXXXXXXX
Eligibility for the AMJEVITA Co-Pay Program is not dependent on income.
---
If you are uninsured or underinsured, Amgen® SupportPlus may be able to help you access AMJEVITA medications at no cost through referrals to patient assistance programs.‡
If you have Medicare or Medicaid, our team of Amgen® SupportPlus specialists from the call center are available for assistance. Our team can answer questions about Medicaid and review the Medicare Part D plan phases to help patients understand what they can anticipate.
†Eligibility criteria and program maximums apply. See here for full terms and conditions. Patients who are not eligible can call 1-888-8AMJEVITA (1-888-826-5384) to discuss other financial support options.
‡Eligibility for resources provided by independent nonprofit patient assistance programs is based on the nonprofits' criteria. Amgen has no control over these programs and provides referrals as a courtesy only.